Property upgrades, large-scale conversions and building refurbishments. We can deliver adaptable, high performing acoustic systems.
High quality acoustic insulation
We're a recognised leader in delivering sound and impact reducing solutions for building renovation projects and property upgrades.
Our recent regeneration and refurbishment projects include material supply and acoustic systems for the redevelopment of the Park Hill Estate, Sheffield, the largest listed concrete building in Europe.
Acoustic flooring made for upgrades
InstaGroup acoustic systems are designed to answer the challenges of change of use conversions and domestic renovations. Our acoustic flooring can solve issues with existing uneven concrete or timber floors, and offer a lightweight solution to minimise the structural load when screed may not be suitable.
Our patented cradle and batten system can be efficiently laser levelled on-site, overcoming even significant variations in the floor surface while outperforming Building Regulations for sound and impact transference. See our Case Study of a 19th century factory in Altrincham, Manchester which underwent change of use to residential apartments.
Our acoustic floor systems are also ideal for the refurbishment and upgrade of domestic dwellings, particularly where floor height is a concern. They offer an effective solution for reducing airborne and impact noise on timber and concrete floors. See our Case Study on converting a three-storey Victorian terrace into social housing flats in Brixton, London.
Our acoustic flooring has been designed and engineered to work in unison with our underfloor heating systems if required.

Acoustic ceilings ideal for retro-fit
Our acoustic ceilings are ideal for refurbishment or change of use conversions where there is no access to the property above. The adjustable systems can level out uneven ceilings while significantly reducing sound impact and airborne noise between separating floors.
InstaGroup ceiling systems provide superior sound insulation for upgrade projects. For best results, combine installation with the appropriate acoustic flooring system

Acoustic walls to improve living spaces
We design and manufacture adjustable acoustic walls and anti-flanking walls that deliver high levels of sound-proofing to existing houses and dwellings.
Our acoustic wall systems exceed the acoustic performance detailed within UK Building Regulations for separating walls between dwellings.
Tried and tested for performance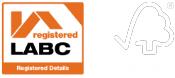 InstaGroup acoustic systems are manufactured from sustainably sourced materials including 100% recycled rubber crumb and FSC certified timber from responsibly managed forests.
All of our products undergo independent testing in real-world environments to provide feedback on performance and ensure best results. Our range of acoustic solutions for conversion and upgrade projects are recognised by LABC as meeting Building Regulation requirements. See Registered Details >
For best acoustic performance contact us to ask about on-site training for sub-contractors or supervision throughout the project.