InstaGroup makes Health and Safety a priority on every project. We invest huge amounts in Health and Safety training every year, as shown by the safety accreditations listed below. Please contact us to find out more.
Embedding safety into your project
We effectively take on responsibility for our element of the construction, covering the moral and legal liability of our team members when they are working on-site.
Our entire workforce is trained to operate safely, and training doesn't stop after qualification: it's ongoing. All of our workers must attend updated technical and safety courses for at least two weeks a year, every year, on top of any separate job-specific courses we require.
We directly employ all of our managers and supervisors, adding a layer of assurance and accountability to every project.
What does this mean for you as a contractor?
De-risks the contract
Limits your liabilities
Mental and physical wellbeing of workers on-site
Driving excellence in Health and Safety
We go above and beyond every professional regulation and legal requirement for each job. Whether our workers are installing flooring, working at height, fitting underfloor heating, operating machinery or making a hot drink.
For example, every InstaGroup team will always include trained First Aiders and trained Fire Marshalls. Not because it's a legal requirement, but because it's the way we want to operate. Likewise, we've ensured 45 of our workers are BPEC trained to fit underfloor heating, even though this is not currently required. For us, it's always a matter of safety first.
The wellbeing of our workers is paramount. We're aware of the high rates of stress and suicide in our industry, and have instigated our own Mental Health First Aid programme to offer crucial support when it's needed. We train workers as Mental Health First Aiders, and we can offer counselling.
Health and Safety led from the top
John Reed, senior board director at InstaGroup leads Health and Safety from the top down.
He is a Chartered Member of the Institute of Safety & Health, a Chartered Member of the Institute of Building Engineers and a Fellow of the Chartered Association of Building Engineers. He is trained to Level 7 Construction Senior Management NVQ – the highest standard achievable.
John cares passionately about safety and mental wellbeing at work, and his 'hands-on' approach has driven the importance of safety firmly into our business.
John undergoes all safety training himself so he can fully understand every process, every technical operation, every product and every piece of machinery. He knows everything our teams know, so he can check our workers are always operating safely and correctly on-site.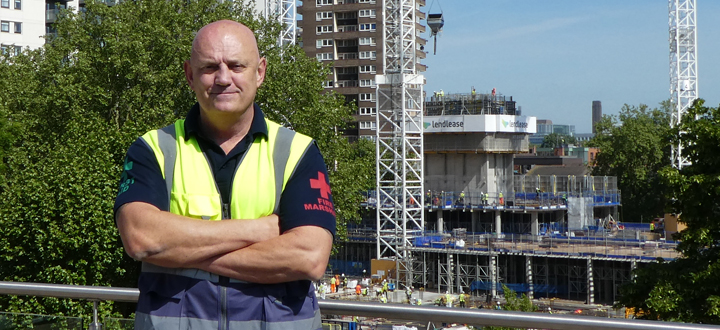 Built-in reassurance for contractors
We are dedicated to workplace safety and competence at all levels, from operative to manager. InstaGroup team members are also qualified to train others, including PAT training.
Above all, we have a pro-active and practical approach to Health and Safety on-site. You can be certain we will use our standards of excellence to ensure your project is planned and carried out smoothly and efficiently, as well as safely.
Our safety accreditations
IOSH – Institute of Safety & Health
1 Chartered Member, 2 Grad Members
CIOB – Chartered Institute of Building
2 Chartered Members
FCABE – Chartered Association of Building Engineers
1 Fellow
IIF Trainers
Incident Injury Free, trained by Lendlease
MHFA
10 trained Mental Health First Aiders
Passive Fire Protection
All managers, supervisors and operatives are trained
IFC Third Party Accredited PFP Installers
Accredited to sign off our own fire protection works. The only flooring company to have this.
IOSH Certificated
4 Safety at Work trained (5-day course)
SSSTS
Safety Training Scheme – supervisors and site supervisors
SMSTS
Safety Training Scheme – managers and site managers
Manual Handling Trained and Certificated
All managers, supervisors and operatives are trained
First Aiders
All managers and supervisors are trained
Fire Marshals
All managers and supervisors are trained
IPAF
4 managers and operatives trained in using scissor lifts and cherry pickers (working from height)
PASMA
5 managers and operatives qualified in building aluminium towers ( working from height)
NVQ Level 3 Occupational Works Supervisors
Gold Card – CSCS Construction Skills Certification Scheme
All supervisors are qualified
NVQ Level 6 Occupational Health and Safety
Black Card – CSCS Construction Skills Certification Scheme
3 senior managers are qualified
NVQ Level 6 Occupational Works Management
Black Card – CSCS Construction Skills Certification Scheme
All managers are qualified
NVQ Level 7 Construction Senior Management
Black Card – CSCS Construction Skills Certification Scheme
3 senior managers are qualified
SEATS
Site Environmental Awareness Training Scheme
4 managers and supervisors are qualified
Banksman Trained
50% of supervisors and managers are trained
BPEC
All managers, supervisors and operatives are independently trained in fitting underfloor heating